掲載日 2020-02-13
Imagine this scenario: there's been news of a retrenchment exercise going round in your workplace; and the next thing you know, you've been summoned to the boss's office and handed a retrenchment letter.
If this happened to you, how would you react? The usual gamut of emotions that set in after someone has been retrenched can range from shock and anger, to disappointment and disbelief. Mohit Saini, Center Head, Delhi, RGF Professional Recruitment India, also shares some of the common emotions such as feeling ashamed and feeling like a burden.
Of course, getting asked to leave sucks. If you should ever have to face such an unfortunate event, taking these steps would help you move on with your life:
FIGHT DEJECTION
Getting that dreaded letter will give you the blues. But that doesn't mean it's the end of the world. Many films featuring a husband who has been retrenched would often portray the man trying to hide the news from his family members for as long as he possibly can, because he feels ashamed about losing his job or doesn't want to cause them worry.
Let's look at it this way – there're worse things that could befall us in life. So just face the music. It's always better to tell the truth anyway. You'd also be better off if you share your worries and garner support from loved ones instead of going it alone. The most important thing is – stay positive!
PICK UP THE PIECES
Being retrenched would probably count as one of the worst experiences in one's life. But don't feel defeated. As the saying goes, "It's no use crying over spilt milk".
Getting mad with your boss/the company/the world isn't going to remedy the situation either. You should also never assume that your retrenchment is a reflection of your skills or value to the company. Most of the time, retrenchment is inevitable due to market forces or corporate mismanagement.
So let it all sink in first. Try to accept the situation you're in and look upon it as an opportunity to open up a new chapter in your life. If you didn't like that job you've been forced to leave very much, then you could even consider this incident as a stepping stone to a new beginning in your career.
MAKE PLANS
Don't lie low or be a layabout as you'll allow depression to set in. Push yourself to make a fresh start instead.
First, look through your finances and get things in order, such as curbing lifestyle habits you can no longer afford. Next, plan a budget and determine how much time you have to hunt for a new job – work out what the "crisis point" would be before you have to dip into your savings or execute Plan B (such as taking on an interim part-time job).
Then look at the kinds of job options that are available out there. Ask yourself if you wish to continue working in the same line or pursue another role that you've always preferred. Or are you willing to take on a job that doesn't pay as well as your previous one, or work on a freelance/contract basis? Your answer and the direction you take will depend on factors like your financial status, your family situation, the marketability of your skills and experience, and your rebooted life goals.
GET GOING
The first course of action is to update your resume (or prepare one if you've never left your first job – till you've been forced to). There are various platforms, such as the Internet and governmental employment/recruitment sites via which you can obtain resume-writing templates, and tips on how to perk up your resume and perform your best at interviews. However, the best way to get specific help is to approach a recruitment consultant. "As recruiters, we will review your resume and make sure that each point in your resume is sending the right message and helping you to sell yourself as the best person for your next job" Mohit shares. Mohit also highlights that this is where recruiters are useful for – "we can meet you and assess your strength and weaknesses and will share with you transparently if your next expected role is achievable or you need to gain some new skills".
Next, take the initiative to enquire about job vacancies. You could reach out to personal contacts or business acquaintances, go to online job sites to register yourself for job alerts, Mohit also advises that "The best way would be to reach out to a recruitment consultant who will best be able to advise you on your next career move through the sharing of the latest market trends and even possible industries that you can explore. Recruiters can also share with you relevant jobs for you skill sets and you don't have to apply for each and every role which you see, this often becomes demoralizing and counter-productive. Recruiters are also the best people to ask about some of the common interview questions as we talk to a lot of hiring managers and candidates. We can share tips with you".
In the meantime, make good use of your time. You could opt to take up skills upgrading or retraining courses, work on side projects, do volunteer work, or pursue any other activities that would encourage you to stay positive or give you an edge in your endeavours to secure a new job. Mohit points out a seemingly small but important task on your to-do list, "work on your LinkedIn profile, think of creative taglines that you can add onto your profile to spice it up and make it more attractive to hiring managers."
Are you looking for a job?
RGF Professional Recruitment handles hiring for top multinational and can connect you with exciting opportunities in Asia.
Send your CV
In this article: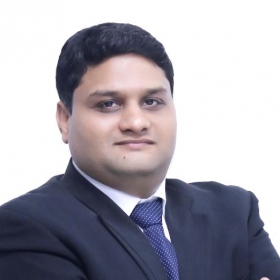 Mohit Saini
Center Head, Delhi
RGF Professional Recruitment, India