掲載日 2020-07-14
Just when you think you've got a new job in the bag, your current employer presents you with a tempting offer to stay.
On the surface it sounds like a dream situation - now you've got two jobs to choose from! - but the way you handle this scenario will determine whether you end up with the best offer, and how your current or next employer will view your behaviour.
There are multiple things to weigh up from both offers: which will benefit your professional growth more? Which job makes the best use of your skills? Which has the more enticing salary, but also enough other perks to make it worthwhile?
There's no magic answer here - the outcome will be different for all individuals depending on what's right for them at the time - but there are a few main points to seriously consider as you weigh up your options.
1. Why wasn't this promotion/pay rise offered to you before you resigned?
This is called delayed recognition, and it can be somewhat disappointing. Although it might initially seem great that your current job wants to offer you more to stay, it should make you question why you weren't being valued like this before. Why did it take a resignation to kick this promotion into gear? It could be worth thinking about whether you have outgrown your current employment if this is the case, and if your skills and talent are better recognised and rewarded elsewhere.
2. A change in loyalty?
One potential issue with accepting a counter-offer is that now your current employer knows you've been shopping around for jobs, which could create some trust issues. This won't be a great situation to be in from a work culture perspective, if it starts to affect how people communicate with you. However, there are ways to work around this, including having a very frank and open discussion about the reasons why you were looking to leave. If you have an understanding employer who really doesn't want to lose you - and really values your input, but perhaps wasn't aware they weren't showing it - it could work out for everyone.
3. Is more money enough?
Although a big, shiny pay rise might have you seeing dollar signs initially - is this what really matters to you? Money is rarely the main driver behind finding another job - most people will shift because they want professional growth, more responsibility, a better work culture, or a better boss. More money isn't going to change those things. It might make them more bearable for a while, but this is a short-sighted viewpoint. Think hard about this before you make your decision.
4. Consider what accepting more money means for your career long-term
Being priced out of the market is a very real concern, and could make it difficult for you to find another job down the line that will match your current salary. This works in the favour of your current employer (to a point) in keeping you around, but will eventually likely lead to decreased motivation and productivity when you're simply no longer engaged with the work - despite the large paycheck.
5. Be careful of over-negotiating
It can be tempting to see yourself as a precious commodity when you've suddenly got two job offers you're deciding between - but be careful how you play these off against each other. Don't get overconfident about asking for even more, or saying things like, "Well, [insert other company] is going to offer me [insert benefit here], so what can you give me?" This will only end poorly.
When it comes to negotiating you need to be firm and persuasive, which means knowing exactly what you want, but also showing that you're genuinely serious about working for that company. If you're just playing a game with them, it will become quite apparent to them, and you may end up with no offers at all.
At the end of the day, your decision comes down to what makes you happy.
Jonathan Naylor, Sales & Marketing Division Head, RGF Professional Recruitment Japan, also suggests you should think about what pushed you to search for a new job initially, and consider whether it really makes you happy.
"You began to search for something as you wanted something to change, and if that change has not happened, then you shouldn't stay. Your life and happiness are very much linked to your job," he says.
"And if you've found something that will make you happy, then there's no reason to look back. New challenges, people and situations are part of what makes life enjoyable."
Are you looking for a job?
RGF Professional Recruitment handles hiring for top multinational and can connect you with exciting opportunities in Asia.
Send your CV
In this article: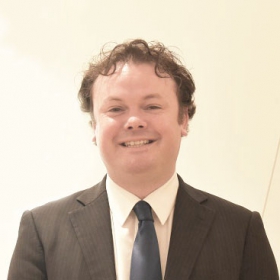 Jonathan Naylor
Sales & Marketing Division Head, RGF Professional Recruitment Japan