掲載日 2020-08-17
When looking for a new job, it can sometimes feel as if you should apply for anything you're qualified for. But if you're hoping to grow your career and make an impact for the business, it's important to consider what sort of company can provide those opportunities and the type of working environment that suits you best. So before applying to a company, here are some things you should assess:

What's important to you about an employer?
Whether you thrive in a more traditionally structured company or a startup where every day brings a new challenge, you should have a sense of the type of company and culture that is most appealing to you. Consider every detail, from the size of the company to the type of leaders you hope to work with, as well as how the company promotes training and education opportunities, and how it encourages social responsibility efforts. Think about your "dream" employer and then look for companies that fit the bill.

If you are currently employed, but looking to move on from your current company, it is recommended that you take your time and consider why you are looking to make a change. Whether it's salary, role responsibilities, company culture, or leadership style, understanding what you are looking for in a new company is crucial so that you do not end up changing jobs only to remain unsatisfied.

Check out the company's website, blog, and social media
A great way to assess a company and learn more about its purpose and culture is to spend time on its website and social media pages. Pay attention to how the business communicates its values, vision, mission, goals via its public platforms and press releases. Look at how customer service teams respond to queries or issues online. Beyond this, look to the executives and senior leaders at the company: read their thought leadership articles and visit their public social media pages to get a sense of the issues they care about and how they speak on subjects important to them.

Reach out to your network
When you find a company you're interested in working for, it's always a good idea to check if you know anyone who has or currently works there. Talking with someone who has first-hand knowledge about how the business operates, how teams function, and how the leadership is structured can help to answer many of your initial questions and will give you a better sense of if the company is right for you.

Read the job description carefully
One way to get a sense of what the company is like is to read the job description slowly and thoughtfully again– you might be surprised at the amount of detail you can glean. For example, is the description a list of responsibilities and skills, or is the brand voice injected into it? Does it mention growth opportunities or the soft-skills it is seeking in a candidate? By analysing the job description, you may be able to determine at least a little bit about the company and its culture.
Consider communication during the interview process
Once you've applied for a position, it is likely your first interactions and communications will be automated or rote – that's okay in the early stages. But as the process moves forward, consider the level of personalisation you receive as well as the tone and style used by team members. Think back to the type of working environment you like best and about how you prefer to communicate – this will help you decide whether this company seems to be somewhere you would quickly feel comfortable.

Additionally, if you are asked to take an assessment test, this could be a clue as to how the company operates and how employees are expected to think and problem-solve. Though a test will likely be challenging, consider whether or not you enjoyed the material – if not, that may be a clue it's not the perfect place for you to work.
Use the opportunity to ask questions during the interview to your advantage
One big piece of advice you'll always hear from senior leaders is that you should always have questions ready to ask during an interview – and this is a great opportunity to fill any gaps you have about working culture. The best advice on how to do this strategically from Tahmidul Islam, Senior Manager, RGF Professional Recruitment Japan is, "Frame your questions in a way that makes the interviewer answer from their own experience. If, for example, growth opportunities are a key decision-making factor for you, ask the interviewer to talk about how their manager has supported employees' career growth in the past."

Though the people who are interviewing you will paint the business in the best light, you can still gather information by asking specific questions about matters that are important to you, such as, "Are employees encouraged to seek out growth opportunities via training and further education?", "Do all employees receive career planning?" or "What does the company do to encourage a strong work-life balance". The answers you receive will help you determine if this company is aligned with your both your career and lifestyle goals.


By taking a step back and considering the company as a whole – rather than looking at a single job, department, or leader – you'll be able to gain more knowledge and perspective about what it might be like to work for a company. Ensure that you compare what you know about an employer to your list of how your "dream" employer operates, and work to find a business that will not just offer you a job, but will help you grow and thrive.
Are you looking for a job?
RGF Professional Recruitment handles hiring for top multinational and can connect you with exciting opportunities in Asia.
Send your CV
In this article: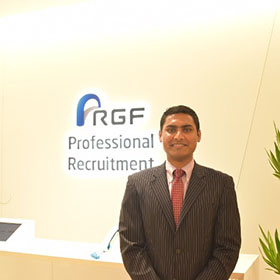 Tahmidul Islam
Senior Manager, RGF Professional Recruitment Japan