掲載日 2020-01-22
Congratulations! You've landed not one, but two (or more?), job offers! That's something to cheer about. But now, you're clearly in a dilemma about how to make the right choice.
Unless you're a serial job hopper, you'll want to grow into your new role over the long haul. So think carefully! Mull over all the information you've learnt about the new jobs, employers and their company culture during the course of your interviews. Research further to obtain any other vital information you'd require. Then, ask yourself the following questions:
WHICH JOB IS GOING TO GIVE ME A MORE FULFILLING WORKLIFE?
According to Anant Chaturvedi, Regional Sector Head, Pharmaceutical Sector, Asia:
"The motivation and expectations of candidates may differ from one to another, but the key determinants of their decision-making process are generally these 3 Cs: Company, Career and Compensation."
Compare the options and see which is a closer fit to the dream job you're always been aiming for. Even if you don't feel particularly excited about any of them, it'd be wiser to pick the one you think will bring you greater personal satisfaction. You'll be performing your new role day-in and day-out, so go for the one that suits your personality better and involves less of the tasks you dread, whether it be making presentations or conducting market research.
Anant Chaturvedi also highlights the importance of cultural fit as a deciding factor: "The employer brand and image are factors that attracts high potential candidates. Is the offer coming form a reputed and established brand?"
Figure out what you're seeking – is it a culture that embraces collaboration, autonomy, flexibility, integrity, creativity, innovativeness or personal development? It would also be helpful to factor in other cultural elements like work-life balance and workplace environment, which count towards the number of good days and miserable days you'll be having.
WHICH JOB IS BETTER ALIGNED WITH MY CAREER GOALS?
Career/Growth prospects are other key areas for consideration, and Anant Chaturvedi shares some vital questions you should be asking yourself: "Does the prospective organsiation offer a clear vision, structure and ambitious plans that will motivate me to stay on and progress with the company over the longer term? Do I feel positive and excited about working for this company? Do I foresee any prospects of career advancement and learning and 'self-development' opportunities in store for me?"
In this respect, the better choice would be the one that allows you to make the best use of your skills and experience. You should also look at your options through the lens of your long-term career goals. Consider what each company can do for you. Check which employer is more likely to provide opportunities that will allow you to learn new and relevant skills, keep you on your toes and on the cutting edge of your industry, and enable you to develop professionally and be future ready.
WHICH JOB BRINGS ME BETTER REWARDS?
Salary is undoubtedly a big carrot. Anant Chaturvedi advises that you find the answers to these questions: "Is the salary offered fair? Is it 'in-line' with the market standard, your years of experience, qualifications and competence?"
But monetary rewards aren't everything. It's always tempting to go for the job that pays you a fatter salary, but other incentives and perks, such as health and training benefits, should also be considered. For example, generous medical and hospitalisation packages or allowances could make a difference.
So what should you do if the job you are less keen on pays better than the one that aligns more closely with your interests and values? Anant Chaturvedi offers an answer: "Your role, responsibility and remuneration should strike a right balance."
If there is a significant gap between these two options, you could also consider negotiating with the preferred employer for a higher salary.
CONCLUSION
Weighing the pros and cons is going to be tricky. Probe and prod all you can to get the answers you need. Ultimately, you'll have to decide which position holds the most promise and likely to get you where you want to go in your career. And if you're leaving a current job, think about the reasons that have caused you to do so and make sure you won't be jumping from the frying pan into the fire!
Are you looking for a job?
RGF Professional Recruitment handles hiring for top multinational and can connect you with exciting opportunities in Asia.
Send your CV
In this article: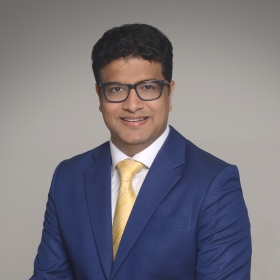 Anant Chaturvedi
Regional Sector Head
Pharmaceutical, Asia