Posted On 2020-06-03
Are you feeling nervous about your upcoming interview? It's a perfectly natural feeling, but there's no reason to let your nerves get the best of you – with the right preparation, you can go into the interview feeling confident, if still a teeny bit nervous. So take your time to prepare sufficiently and follow our tips below – doing so can significantly increase your chances of securing a job offer!
Research the company
Although the interview is about you, it's also an opportunity for you to "interview" the company. To do this effectively, you need to find out what you can about the company.
This is an especially important first step because it not only gives you insight into the company, but because it is something the people interviewing you will expect that you have done. "The lack of research about the company is often a reflection of a poor attitude towards the job," said Vinay Kumar, Vice President, BFSI, RGF Professional Recruitment, India. "It can also give a negative impression of the candidate because such a behaviour could possibly be the result of a careless approach, know-it-all attitude, or general disinterest in the company."

To begin building the knowledge you need to make a great first impression, start by reading the company's website and gaining a good understanding of their vision, mission, products, services and history. The vision and mission statement are particularly important, as these will help you truly understand what the company is about and where it is headed in the future.
… and the interviewer
Find out as much as you can about the person who is interviewing you. Depending on their role in the company, it could change how they interview you – for example, if you are talking to the head of HR, they will want to ensure you match the requirements, understand the scope of the role and have the needed hard and soft skills. But if you're speaking with the person who you would be reporting to, it is possible they will be more interested to learn about your attitude, character and critical thinking skills to determine if you are a good fit for not just the company, but their specific team. Knowing who you will be speaking with can help you prepare for the type of questions they may ask and any examples or scenarios they may want you to provide.
Analyse the role
When you applied for the role, you read through the job description – so before the interview, you should ensure you understand every aspect of the job description and the scope of work you could be doing. Write down all questions you have about the role and its scope, as well as questions about growth opportunities and career trajectory.
The job interview is not only your chance to clarify these questions, but a time for you to learn as much as possible about the company and what it would be like to work there long-term. By preparing intelligent questions, you'll signal to the interviewer that you are not just enthusiastic about the job, but forward-thinking and career-focused. However, be sure to not just ask questions for the sake of it, as most interviewers will see right through it – ask about the things that are relevant and that you are genuinely interested in.
Create a match
The job description and your set of skills will not always match one hundred percent. Before you panic, remember this is true for most candidates. However, you should not ignore the skills or knowledge you do not currently have and hope you aren't asked about any gaps or weaknesses during the interview. Instead, think about how you can best position yourself in the eyes of the interviewer as the ideal candidate.

Although you don't fit every single requirement, make sure you highlight the skills you do have. Revisit the job role requirements and identify your strongest skills. During the interview, be sure to weave your strong characteristics into your replies, but be careful not to blatantly boast about how good you are. Let your expertise shine through as you talk about the challenges you have overcome, new projects you have taken on or how you have helped your team achieve a common goal.
Prep for difficult questions
As most interviewers will throw you at least one curveball of a question, you should work to prepare how to answer difficult questions. The job interview is, of course, your time to shine and highlight all your strong suits – but nobody is perfect, and you should find a way to talk about your weaknesses and shortcomings humbly and honestly. It's all about how you frame your answer – instead of admitting, for example, that you get stressed out if things do not go according to your plan, you can say that you like to have a backup plan in the event things go wrong and that you are working on being more flexible and agile.
Another question jobseekers often stumble over is 'Why are you leaving your current job?' Vinay Kumar said, "To answer this question, candidates often cite reasons such as lack of growth, incompatibility with the manager, or role changes – but they also often fail to explain why they haven't been able to navigate out of these challenges and are looking for a new workplace. This is important because the same situation could arise at their next job. It is imperative candidates think through their challenges and articulate their approach or steps taken to overcome the same."

Other difficult questions include 'why should we hire you?', 'tell us about a situation where you had to overcome a challenge' or 'please tell me about a time when you failed'. Take your time to really think about these questions and carefully craft your answers in a way that shows you are self-aware, reasonable and thoughtful.
Practice your interview
It might feel awkward to practice your interview by yourself, but repeating your answers out loud will help you to deliver them more naturally and confidently. Once you are happy with what you are going to say, you should feel confident enough during the interview to focus on your interaction with the interviewer rather than having to wrack your brain for answers.
Get the details right
Last but not least, double-check the time of your interview, the address of the interview location and the route you will take to get there so that you are on time. To prevent unforeseen circumstances from delaying you, it never hurts to factor in some extra travel time. That said, don't show up half an hour early – if you are that early, go grab a coffee instead and use the extra time to go through your answers!
Are you looking for a job?
RGF Professional Recruitment handles hiring for top multinational and can connect you with exciting opportunities in Asia.
Send your CV
In this article: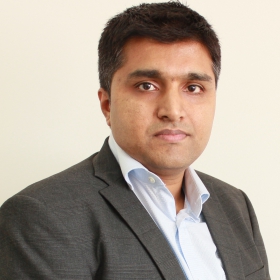 Vinay Kumar
Vice President, BFSI, RGF Professional Recruitment, India