Posted On 2019-12-20
Phew, the "cross-examination" is over! You've just walked out of a nerve-wracking job interview that could well decide the fate of your career future. Now, what's your next move?
Instead of simply sitting tight and waiting for the good/bad news to arrive, you could give yourself a leg up by following up with a thank you note – pronto.
Here's some useful advice from Vinay Kumar, Vice-President, BFSI, RGF Professional Recruitment, India: "Thank you notes from candidates are highly critical in an interview process as they are expressions of gratitude and interest in the role. A thank you note should be as crisp as possible, and sent within 24 hours following the interview.
The candidate should reiterate why he's suitable for the role and how well it gels with his career progression goals. He should also accentuate the importance of the role he could play in the advancement of the organisation's growth plans.
It would be helpful for the candidate to highlight any critical detail from his profile that could have been omitted during the interview. Including exemplary samples of his work, such as a portfolio, project link or media mentions; highlighting relevant points learnt from discussions with the interviewer/s and expressing his appreciation for the thought-provoking questions will also serve to impress upon the interviewer/s his interest in pursuing the role.
The message should be addressed to the interviewer only, via his official email address."
REASONS TO SEND A FOLLOW-UP THANK UP NOTE
A well-written thank you note could help you make a good impression on your potential employer, and increase the odds of securing a second interview or landing that job offer even. Here's how:
Some hiring managers might take into consideration how you respond after the interview, and also how well you are able to make your case by reaching out to them.
Hiring managers do their best to request everything they need from you – from writing samples to interview assignments. Show them you are taking the initiative to make sure they have all the information they need to make a decision.
If you think any information that has been omitted could benefit your case, this is your opportunity to furnish it.
You could also take this opportunity to convey any matter of importance you wish you had said to the interviewer/s.
It gives you an avenue to address any concerns you weren't able to fully address during the interview. For example, you might want to include a work sample demonstrating your competence in any area of concern that had been raised.
By supplying any other "ammunition" you have to support your case, you can show that you're on top of your game, as well as mitigate the doubts of any interviewer who's still on the fence about your suitability for the position.
TIPS ON WRITING A POST-INTERVIEW THANK YOU NOTE
Keep your message succinct, especially if you're doing a quick follow-up on the first round of interview. These are some essential elements you could include in your communication:
Start by thanking the interviewer/s for taking the time to speak with you.

If necessary, personalise the message for the respective interviewers.
Include a brief summary emphasising why you're a good match for the position, given your assets and interests.
To make a better impression, be more specific – show you were paying attention during the interview by reiterating important points that were discussed and how they relate to your suitability for the job.
To take it to the next level, offer some ideas on how you could add value to the organisation. For instance, if you are vying for a creative role, it could be a quick mock-up of something that was discussed during the interview; or you could suggest an innovative branding/marketing strategy if it's a business development or sales position you're aiming for.
Ask if there's any additional information you could supply to help

facilitate their hiring decision.
Express your sincere interest in joining their organisation, and your appreciation for the opportunity to meet.
Are you looking for a job?
RGF Professional Recruitment handles hiring for top multinational and can connect you with exciting opportunities in Asia.
Send your CV
In this article: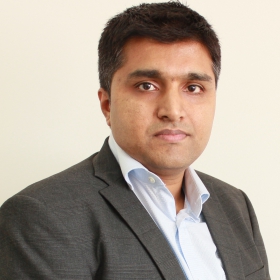 Vinay Kumar
Vice-President, BFSI, RGF Professional Recruitment India